l have always liked to custom-build hot rods and l hope to start one again some time soon.


Here are a few pictures of some cars l had. The '56 Ford you see here was my drag race car, and l used to drive it on the street too.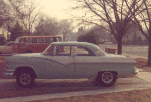 l have always enjoyed NASCAR racing, and now with cable you can see every race on TV.